There are few things in life that top the excitement of building your dream home. You've done the fantasizing—and now it's time to bring that vision to life. Embarking on a new home build is a huge investment of your time and money, so naturally you're going to want to work with the best general contractor for your project. We're here to give you our top tips and tricks to find the best home builder near you, so you can build the house you've been dreaming of.
How to Find the Best Home Builder for Your Residential Construction Project
Your first instinct will likely be to go online and search "best home build near me," and you wouldn't be wrong! This is a great way to find the best general contractor for the job, but this is just your starting list. Your next step is going to require some due diligence, but with these tips, narrowing your list down to find the best home builder for your project will be a breeze.
Check Credentials
Checking the credentials of a general contractor is key to making sure you are working with a well-qualified, licensed and insured professional. A custom home builder should be able to provide their licenses number, contractor's bond, and insurance information upon request. These credentials are an essential requirement to protect the safety of both the workers and your project.
How to Verify a General Contractor License in California
California residents can visit the Contractor's State Licensing Board (CSLB) website to verify a general contractors license and even see if they have any complaints filed against them. This valuable tool is a great way to check the credentials of a prospective home builder to make sure they meet your standards.
Ask Questions
Asking the right questions can get you pretty far in determining if someone is the best home builder for your project. Not only will you be able to get a good sense of their communication style and customer services quality, but you can also weed out a lot of potential builders if you ask the right things, like:
Availability: Inquiring about a general contractor's availability is essential, especially if you have a strict timeline to consider.
References: Requesting a list of references from previous clients will give you a good idea of the quality of service a company provides, highlighting the things they did or didn't do well during past projects.
Warranty: Asking about workmanship warranties and/or materials warranties will ensure your construction project will be top-quality and up to code. This is also a good way to be aware of your rights as a client and ensure you'll have protection in case issues arise.
Pre-Construction: Inquiring about factors like pre-construction planning, timelines, materials, sourcing, and budget allocation will give you a good idea of what to expect before diving into a construction project and reduce the risk of unwanted surprises down the road.
There are never too many questions you can ask a potential home builder. Most companies will be thrilled to answer any questions you may have, and their answers can help ensure you'll be working with a trustworthy company that aligns with your vision and values.
Research Company Reputation
Reputation matters, especially in the construction world. Researching a home builder's reputation can give you an inside look at other people's experiences working with them and even help you understand what to expect in terms of their work quality and customer service.
One of the best ways to do this is by checking the company's website for testimonials, and review platforms like Houzz or Yelp to gauge honest opinions about their services. Remember, you're building your dream home. At the end of the day, the main goal is to find a company that you actually want to work with. Don't be afraid to do a little digging!
Browse Portfolio for Examples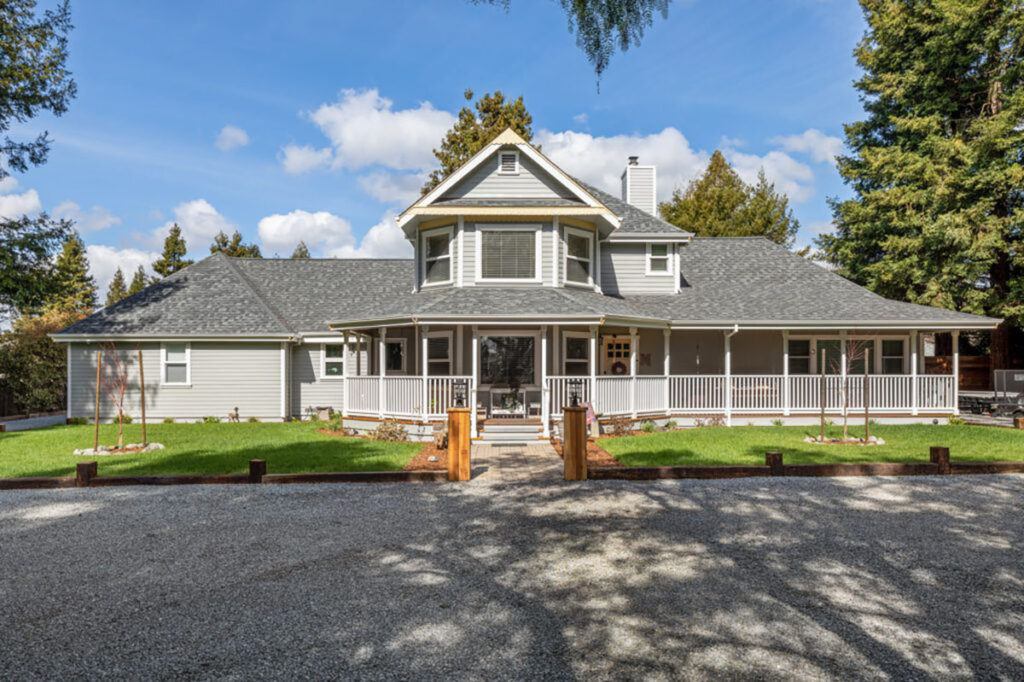 Browsing the portfolio of past projects can help you find a home builder with experience that aligns with the goals you have for your project. Again, this is your dream home we're talking about here, so you want to choose a company that meets your aesthetic quality requirements. Looking through photographs, design plans, and case studies will guide you toward a builder that makes you want to say yes!
Ask About Contracts
When it comes to new home construction projects, there are typically two types of contracts you can expect to encounter. Understanding the differences between the two is essential to knowing what to expect during your build.
Design Build: This process is typically carried out by a team of architects, engineers, and builders who will work closely with you to carry out your project from start to finish. A design-build team will collaborate on all phases of both design and construction. It often involves pre-construction planning, streamlined communication, and a shared understanding of budgets and timelines in order to optimize every step of the process in the most efficient way possible.
Design-Bid-Build: The design-bid build construction process involves hiring an architect to draw up plans for your project. After the designs are created, they will then be bid out to multiple prospective contractors and subcontractors that you can choose from, based on the pricing they submit and other qualifications.
Both types of contracts have advantages to consider when determining which approach is best for you.
DRF is Proud to Be a Trusted Home Builder in Santa Rosa
Finding a trusted home builder near you doesn't have to be difficult. By checking credentials, asking the right questions, and doing research about a company beforehand, you can find a general contractor that checks all your boxes.
If you're searching for a qualified custom home builder in Santa Rosa, look no further than the design-build team at DRF Builders. Since 2009, we've been proud providers of high-quality residential construction services and want to help make your dream home a reality. Contact us online or give us a call at 707-888-0713 to learn more about our services, past work, and warranties.