Defining Today's Most Popular Architectural Designs For Your New Home Construction Project
Building your dream home should be one of the most exciting experiences of your life, but the design phase can be overwhelming for anyone – where do you even start?
At DRF Builders, our design-build team is here to help bring your vision to life, and will work with you to determine the key features and layout requirements that will make your dream home a reality. Being familiar with different architectural designs is the perfect place to begin dreaming up your new home, and can make it much easier for you to define your vision!
Below we have outlined five of the most popular home design styles and the unique characteristics and features each architectural layout includes.
Modern Architectural Designs Will Always Stand the Test of Time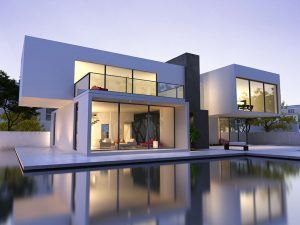 Despite its name, the Modern home design style is nearly a century old, but remains one of the most popular and influential in new home construction today.
Original Modern home designers threw out the old 19th century rules of ornate details and frill-filled spaces for a more minimalistic style that today's new home builders use as a keystone for their designs.
Strong function-over-form defines the Modern style, and typically includes clean, geometric lines and open living spaces. Natural light plays a big part in a Modern home design, blurring the boundaries of indoors and outdoors with oversized windows that encompasses the perimeter of your living space.
Contemporary Home Architecture Makes Classic Styling More Energy Efficient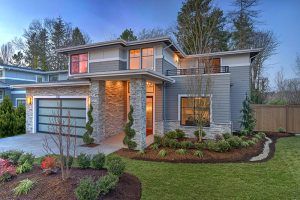 Contemporary-style homes are not to be confused with the Modern home style of the 1950's, though it is inspired by many aspects of its mid-century Art Deco predecessor.
The Contemporary style incorporates architectural details from modernism, farmhouses, and Craftsman style homes, but utilizes more complex shapes and free-form lines. Contemporary designs also incorporate large windows for natural light and open floor plans. While also including a heavy emphasis on energy efficiency and the use of natural building materials such as reclaimed wood and solar panels.
While the current trends are always shifting, the Contemporary style home evolves with it, creating a marriage of past and present designs for the perfectly built home.
Farmhouse Architecture Brings the Countryside Home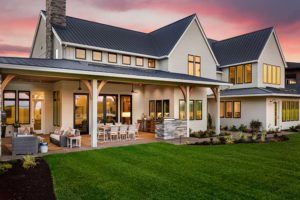 The Farmhouse design was once just labeled the building that farmers lived in, but the stylization has shifted dramatically in the 21st century. Today, the Farmhouse style incorporates the rural stylings of a traditional country home with modern designs and features to create a simply beautiful home.
The Farmhouse design utilizes a "form follows function" principle, where the shape of a building directly relates to its intended function. This is easily to see in the elegant simplicity of the spacious interior floor plans and surrounding light-filled windows. Any home renovation and building show will likely feature a modern Farmhouse design at least once per episode. They are easy to spot from the outside due to their A-shaped Gable roof design and patterns of vertical and horizontal siding.
Another key aspect found on the modern Farmhouse is the large covered porches. Originally these additions provided farmers a comfortable area to oversee their property, but today they give homeowners an idyllic spot to watch a country – or suburban – sunset. It's these little simplicities that make it no surprise that the farm style home is so popular to this day.
Craftsman Architecture is Perfect for the Modern Bohemian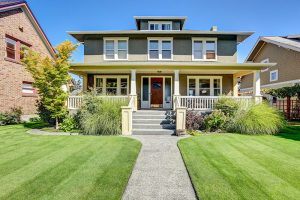 The Craftsman home design was born out of a rebellion against the industrial nature and extravagance of the late 19th century Victorian homes. The Arts and Crafts movement of the early 1900s embraced handcrafted details, natural materials, and simplistic architectural designs.
Today, the Craftsman home is still incredibly popular with their easily recognizable large covered porches, low-pitched roofs, and stone detailing. The interior will typically include thick trim, exposed-beam ceilings, big fireplaces, and custom built-in furniture creating a cozy and welcoming layout.
The Craftsman style home pays perfect homage to the phrase "Home, Sweet, Home!"
Ranch Style Architectural Designs Thrives on Simplicity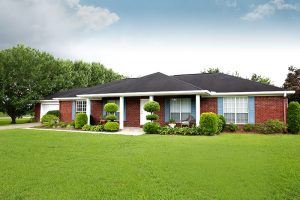 The Ranch style home design became increasingly popular in the mid-20th century as more and more families flocked to the expansive city suburbs. This architectural design quickly became a standard throughout the budding residentials areas and continues to be a timeless staple in new home builds today!
Ranch style homes are known for their single story layout and wide, spacious interiors that include easy access to the living spaces such as living rooms, dining rooms, and kitchens. Large picture windows and glass sliding doors compliment this layout and bring the outdoors inside! This architectural design gained prominence at the same time that car ownership skyrocketed in the U.S. making the attached garage another key feature of any Ranch-style layout.
The simplicity and open floor plan of a Ranch style home prioritizes accessibility and comfort making it a modern day gem.
Contact the Design-Build Team at DRF Builders for All Your New Home Construction Needs
If you are planning a new home build this year, our design-build team at DRF Builders is here to help! We are a full-spectrum design-build construction company with a passion for making your dream home a reality.
If you would like to learn more about our design-build services, or would like to speak with our experts regarding your new home construction project, please give us a call or contact us online today.