A Guide to Designing an Outdoor Kitchen that Fits Your Style and Lifestyle
If you've been doing more outdoor entertaining, or just enjoying dining al fresco with your family, you have likely considered an outdoor kitchen. An outdoor kitchen will definitely make your al fresco meals more comfortable, easier and more luxurious. But what will it look like?
When exploring outdoor kitchen design ideas, it's best to start by asking yourself some questions about how and when you'll use it.
Answer the following questions, and you'll be well on your way to a design you can discuss with your builder.
How and When Will You Use It?
Like your indoor kitchen, your outdoor kitchen may become a hub of activity. The idea of an outdoor kitchen may have started with a fancy barbecue and sink, but if you think about all the things it might do, and when and how you could use it, it may morph into a full-on kitchen with add-ons with which its inside counterpart can't compete. There are so many possibilities. When deciding on form and function, there are a number of considerations.
How You Cook: Appliance Must-Haves
How will you use your new outdoor kitchen? In addition to summer barbecues, will you could cook pots of chili outside where it won't heat up the house, bake pizzas for the family every Friday night, cook a second turkey when you're hosting a big Thanksgiving gathering, or host a work party al fresco without constant trips ferrying food and drinks from the house.
Once you've decided what you need your outdoor kitchen to do, you'll want to make a list of appliance must-haves. Browsing through online galleries of outdoor kitchen appliances or visiting a showroom can help give you an idea of what's available.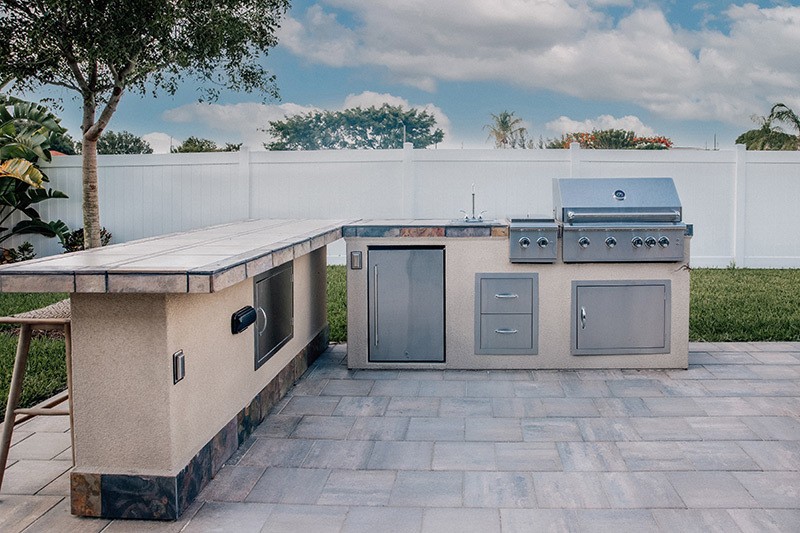 The Centerpiece – Your Grill
The grill alone offers a host of options. Do you want to cook with gas, propane, charcoal, or pellets? Do you need an outburner, power burner, searing station, or rotisserie? How many people will you likely feed on a regular basis? You might as well get something big enough to handle entertaining while you're at it.
Add-ons to Think About
When thinking about add-ons, you might consider how often you'll need them. Make sure the smoker, pizza oven, or deep fryer are worth the expense and the space they will occupy. Pizza might be your main concern, or you may find that you can do the occasional pizza on a stone in your barbecue.
Everything AND the Kitchen Sink
If you're going to do a lot of entertaining or even cooking in quantities for freezing, you're going to have some big pots. Maybe from cooking the corn or boiling the crab. You'll want a decent-sized sink to clean them outside, rather than just a small wet bar sink for washing your hands and a few utensils.
Refrigeration
How much and what kind of cooking you will be doing will help you know what size of refrigerator you'll need. And whether you need a wine cooler or ice maker.
When You Cook
When designing your outdoor kitchen, the time of day you'll use it most and what types of gatherings you might host will inform a lot of your overall design decisions, especially around the lighting and seating.
If you're hosting company cocktail parties or fancy dinners, you may prefer a more elegant look, with dimmable track lighting, plush seating, a cocktail bar, and adequate storage for your outdoor table service.
If your main intended use is casual barbecues, you may go for a more rustic look and forgo the bar and the overhead lighting. Your larger concern may be letting the sun in when the weather is nice and providing shade on hotter days. Installing pergolas, drop shades on exposed sides, or retractable awnings are just a few ideas.
What Design Speaks to You and Reflects Your Style?
When you add an outdoor kitchen, you're essentially creating an extra room for your home. A new place where you will spend time with family and friends. As with any room, you'll want it to reflect your style while meeting your needs. With so many different materials and styles to choose from, there's no need for choosing between luxury and utility. You can have it all.
Materials
Depending on the look you're going for, you can choose from stone, brick, marble, granite, tile, or wood. Again, your style and your vibe (barbecue, family dinners, cocktail parties) will inform the choice of materials for the right look for your outdoor kitchen.
Color
When it comes to color, your landscaping and your home's exterior colors will need to be considered. While you won't want to clash, you may want to set it apart a bit with a complementary color. Will you be replacing the patio or deck as part of the project? If not, then that's another factor.
Done Right, From Design to Completion
Hiring a professional for your covered kitchen, or any other value-adding outdoor addition is essential to creating the oasis you have envisioned. In addition to having your dream outdoor kitchen professionally built, they can advise you on the availability, durability, and other pros and cons of various types of materials.
If you need help planning your dream outdoor kitchen, let DRF Builders help. Our team is dedicated to partnering with you at every step of the process. We have 13 years of experience building custom homes and additions. Contact us today to request a quote.