You deserve a home that works just as hard as you do to bring comfort and convenience to your family. Maybe you bought your home knowing it needed some upgrades. Or maybe over time, the layout of certain spaces has just stopped meeting the demands of your daily life. Whatever the reason may be, if you're looking to fall in love with your home all over again, and increase your property value, this guide is for you. We're here to walk you through some of the biggest home remodeling trends of 2022 and how you can use them to boost your curb appeal and add value to your home and your life!
4 Home Remodeling Trends of 2022 With the Best ROI
1. Eco-Friendly Homes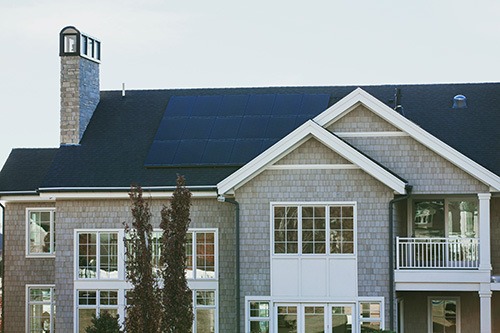 Integrating sustainable and eco-friendly features throughout your homes can make a big impact on reducing your carbon footprint and significantly reducing your energy costs.
Solar Panel Roofs
Going solar is one of the most energy-efficient solutions you can add to your home during a remodel. Not only can it reduce your dependency on electricity and lower your monthly energy costs, but studies show it can also increase your home value by $15,000.
Advances in solar technology have led to even more energy-efficient panels that aren't big and bulky but are designed to be aesthetically pleasing or even incredibly discreet.
Energy-Efficient Doors and Windows
Effectively conserving energy usage means being mindful of how much heat or cooled air leaves or enters your home. Replacing old doors and windows with energy-efficient ones that insulate your home can greatly reduce your yearly energy expenses.
Reclaimed Wood Flooring
Many people are opting for the extremely eco-friendly option of repurposing materials such as reclaimed hardwoods throughout their homes. Not only does this help create an even more unique space during a remodeling project, but using salvaged wood also helps keep perfectly good resources out of landfills.
Bamboo flooring is also growing in popularity as a sustainable flooring option, as the plant grows incredibly fast and in great excess.
2. Upgraded Safety & Sanitation Features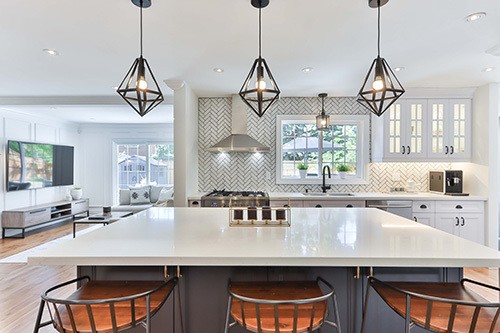 Upgraded safety features are even more accessible to homeowners in 2022 looking to incorporate higher levels of safety, sanitation, and protection in their remodeling projects.
Antimicrobial Countertops
Areas of the home that contain food, or higher levels of moisture are ideal environments for bacteria to flourish. Many homeowners are prioritizing installing antimicrobial countertops to protect against the growth and spread of bacteria, molds, and mildews. Stones like granite, marble, and quartzite are known for their antimicrobial properties.
Fire-Resistant Home Upgrades
Throughout California and many other wildfire-prone areas, many homeowners are wisely prioritizing the use of fire-resistant building materials. Replacing windows with fire-rated glass and re-roofing with fire retardant materials has been a big focus. Adding intentional firebreaks around your home like brickwork or concrete is another efficient fire-resistant upgrade to consider as well.
Whole House Air Purifier
Whole-home air purifiers protect the health of your family by improving indoor air quality. They can be installed directly into your HVAC system to remove contaminants such as pollen, dust, environmental toxins, and more. Investing in a whole-house air purifier is one of the easiest ways to improve the quality of the air you breathe and protect individuals who have respiratory conditions or allergies.
3. Making The Switch to a Smart Home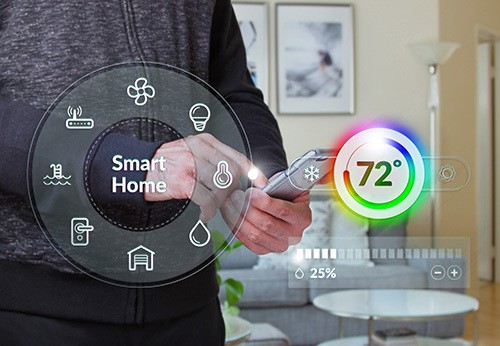 Smart technology is more popular than ever before, and it's for good reason. Not only do these modern solutions add convenience, comfort, and safety throughout your home, they are also helping families save money every month.
From smart lighting systems to refrigerators, there are countless ways to integrate smart devices into your home remodeling project.
Smart Thermostats
A smart thermostat can help you manage your home's heat and cooling at the click of a button. No matter where you are, these devices make it incredibly simple to manage and track your energy usage. Not only are you able to reduce your monthly energy costs, you are also lowering your home's carbon footprint.
Smart Water Heaters
Families and individuals everywhere are taking more control of their energy use with smart water heaters. These innovative appliances allow you to remotely control your water heater, automatically cycle out any possible bacteria, and even alert you to any possible leaks.
Smart Security Systems
These revolutionary security systems allow homeowners to keep their homes safe, no matter where they are. From their phone, they can check the cameras, control the alarms, make sure the doors are locked, and get alerted when unfamiliar sounds or movements are detected. Upgrading your home security system during a remodel can provide you with peace of mind, and ensure your home remains safe and secure for your family.
4. Remodeling Outdoor Spaces in 2022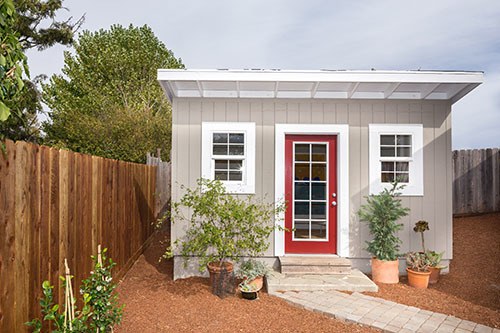 If any outdoor areas around your home are going unused or lack basic amenities or comfort, they can feel like a major waste of space. It doesn't end there though – your front, back, and side yards can also be a major opportunity for you to increase your property value.
In-Law Suites
In-law suites, also known as granny units, are smaller dwellings set apart from your main residence that usually include all the basic necessities. These home additions are becoming increasingly popular as more homes adjust to accommodate multigenerational families.
In-law suites provide flexibility, versatility, and privacy making them perfect for accommodating a home office, house guests, live-in ​​au pairs, and much more.
Bringing the Outdoors In
For 2022, we're seeing more homeowners blurring the lines between indoors and outdoors with innovative approaches to sunrooms, mudrooms, greenhouses, and enclosed patios. Not only do these areas provide a safe and secure spot for your family but they also add square footage to your home and increase the value of your property.
Outdoor Kitchens, Dining Areas, and Bars
Adding an outdoor kitchen, bar, or dining area can make any home feel like your own personal all-inclusive resort. These outdoor areas provide a touch of luxury to every meal or gathering with friends and family all while significantly increasing the value of your home.
This 2022, Increase the Value of Your Home with the Remodeling Professionals at DRF Builders
Remodeling your home can add immediate value to your property as well as to your everyday life. At DRF Builders, we want to help you fall in love with your home all over again. Our team of design-build professionals have been helping families get the absolute most out of their space since 2009. We are dedicated to providing our clients with the highest level of quality and care while delivering projects on time and within your budget.
If you would like to learn more about our home remodeling services give us a call at 707-888-0713 or contact us online today.