Countertop Inspiration for Your Kitchen Remodel
Choosing a countertop material that best suits your unique routine and taste is an essential step to any kitchen remodel. From the special pancake breakfasts to all the late-night laughs, your counters are going to be the focal point in this part of your home. If you need some design inspiration for your new kitchen countertops, DRF Builders is here to help! From comfy cabin feels to high-end luxury, our design experts have an option for you on the list below. Read on to learn more about trending kitchen countertop materials available for your kitchen remodel project.
1. Quartz Countertops Are a Low Maintenance Addition to Your Kitchen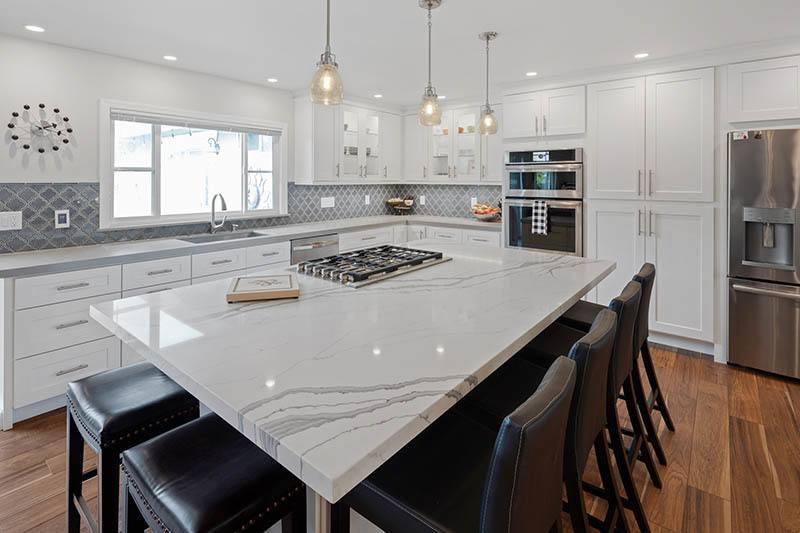 Engineered stone countertops were created as an easy-to-care-for alternative to natural materials. Quartz counters are designed in a large variety of colors, sometimes mimicking marble and granite.
Engineered quartz is a very popular option for homeowners looking for an easy-to-clean countertop. Unlike organic stone, quartz is naturally resistant to scratching and staining, requiring no sealant treatments.
Benefits of Quartz Countertops
Low Maintenance
Heat Resistant
Scratch Resistant
2. Granite Countertops Continue to be Homeowner's Top Choice
Natural stone is a favorite countertop option for a lot of Sonoma County homeowners, with granite being the traditional, go-to choice. Granite kitchen countertops provide a high-end look with a durable surface.
The stone surface is naturally heat resistant and, when treated with the proper sealants, requires very little upkeep to maintain.
Benefits of Granite Countertops
Durability
Traditional Design
Heat Resistance
3. Add Elegance to Your Kitchen With Marble Countertops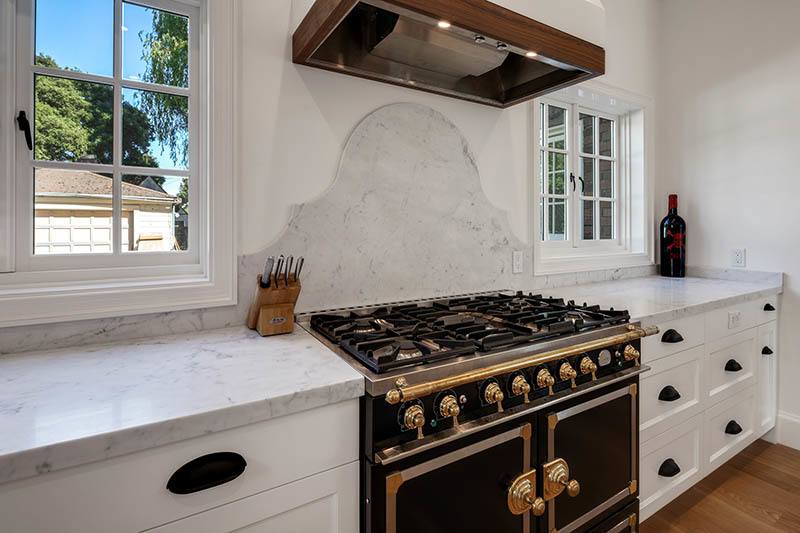 Marble has hit the design world hard in recent years. It represents luxury and class better than any other natural stone countertop on the market. Swirling with natural hues, the timeless elegance of a marble surface is irresistible.
Aside from marble's undeniable beauty, the durable material can also tolerate high temperatures. Our experts at DRF Builders suggest regularly treating your marble with a sealant to help prevent staining the natural stone.
Benefits of Marble Countertops
Durability
Heat Resistance
High-End Aesthetic
4. Get Creative with Laminate Countertops
If you are looking to add a pop of color to your kitchen, laminate countertops will not hold you back. During a kitchen remodel, laminate will offer you the largest variety of colors and design options for your countertops. With little to no maintenance required, this easy-to-clean surface makes it a great option for a bright and busy kitchen.
Benefits of Laminate Countertops
Wide Design Variety
Budget-Friendly
Easy to Clean
5. Choose a Wooden Countertop For a Rustic Kitchen Remodel
Butcher block countertops are as functional as they are aesthetically appealing. Choosing thick wood countertops will create a warm, cottage-style kitchen that is super cozy.
For a busy cook, a hardwood countertop is sanitary enough to cut and prepare meat on, as well as naturally heat resistant. Any scratches or dents in the hardwood can easily be buffed out, making repairs simple.
Benefits of Wood Countertops
Hygienic
Easy to Repair
Durable
DRF Builders are the Kitchen Remodel Experts of Sonoma County
At DRF Builders, our number one goal is to make your home remodel dreams a reality. Your kitchen is a room designed for activity and creativity! From concept to construction, our expert design-build team is ready to handle any remodeling job.
Let's work together to create your perfect living space. Call or contact us online today to learn how we can help with your next remodel project.